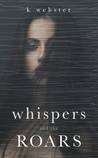 Whispers and the Roars
by
K. Webster
My rating:
5 of 5 stars
Anytime I see a sign up for any of K. Webster's books, I do it immediately. I have been hooked on her books for a long time. Some of my favorites are the War & Peace Series and the Lost Dolls series. But I may have found a brand new favorite, Whispers and The Roars was one of the best books I have ever read! It is probably my most favorite book of 2016! This book literally took my breath away and gutted me!
I went into this book pretty clueless to the storyline. Like I said before when I see K. Webster's name for a sign up, I sign up because I know I am always guaranteed a great story from her! She has always amazed me but this book was over the top amazing! I think it's best that you do go into this book blindly. It will be worth the trip you are getting ready to take!
"Kadence Marshall has been my entire world since I was ten years old. And now, every single choice. Every decision. Every thought that enters my mind involves…her. It's always been that way and it always will be that way. I love her. Plain and simple. You can't snuff out the blazing flames of love. Soul mates don't simply drift apart. Twelve years does nothing to change the way I feel about her."
"This girl was meant to soar…"
Yeo knows what he wants and that is Kady. He has pined over her for twelve long years and is back to finally claim her! He has worked hard to become the person that she needs in her life. Yeo will do anything for her to see that his love has always been there and will continue to be.
Whispers and Roars will take you on one incredible, mind blowing trip. This story is told from multiple points of view to help you understand each character. This story is about true love and acceptance. It proves that we all have a knight in shining armor out there waiting to fight our battles for us. This book is steamy at points but also heart wrenching and may make you sob some. It's not your typical love story. But believe me, you will want to read this book!! Don't miss your chance to read one of the best books of the year!
View all my reviews